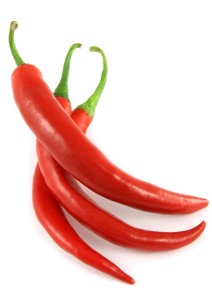 For Christmas my sister Karen gave me an assortment of dried peppers she purchased at Christina's Spice & Specialty Foods of Inman Square, Cambridge, MA. As I wasn't familiar with the varieties (and as in addition to eating them I might want to try planting them come spring) I looked them up. Here they are described.
Puya: Large (6″ long) finger-shaped. Online description: "Red, ripening to black, hot pepper growing to about 4″ long. The puya is popular in Mexican cooking and its origin dates back to early Central America. The peppers are fairly hot (6 of 10 in heat), with a nice, sharp flavor."
Ancho Pasilla: Chunky heart-shapped 4″ long by 2″ wide. Online description: "Deep red, to black colored pepper with a mild flavor. Extremely popular pepper, used to make mole sauces. In the United States producers and grocers often incorrectly use pasilla to describe the poblano, a different, wider variety of pepper whose dried form is called an ancho. Pasillas are used especially in sauces. They are sold whole or powdered in Mexico."
Tianjin Red Chiles: medium (4″ log) finger-shaped. Online description: "The tiny, red chili peppers that grow in Northern China look innocent but contain a scorching, mouth numbing heat. Also known as Chaotian Chili, Havista Tianjin Chili Peppers are harvested, dried, and served in traditional Chinese dishes around the world. Tianjin Chili Peppers are not for the weak at heart, but chili lovers will savor their tantalizing heat and earthy, slightly fruity flavor."
Peguin: Small, about the size and shape of a watermelon seed but thicker. Online description: "Tiny chile, about 1″ long, but extremely hot (13–40 times hotter than jalapeños), and commonly used in ultra-spicy meals. Flavor is described as citrusy, smoky (if dried with wood smoke), and nutty. Plants are semi-annual and in warmer climates can survive for several years."
Arbol: Small (3″) finder-shaped. Online description: "The Chile de árbol (Spanish for tree chili) is a small and potent Mexican chili pepper also known as bird's beak chile and rat's tail chile. Their heat index is between 15,000 and 30,000 Scoville units. The peppers are a bright red color when mature. Chile de árbol peppers can be found fresh, dried, or powdered. As dried chiles, they are often used to decorate wreaths because they do not lose their red color after dehydration."
In addition to the chiles (and an assortment of Belizean-style hot sauces) she also gave me several interesting spice mixes .
Aji Amarillo Powder: Also Known as Aji Escabeche Powder, Peruvian Chile Powder or Yellow Chili Powder. Origin: Peru. Taste and Aroma: Distinctive, lemony, medium heat and fruity. Uses: Sauces, rice, soup, Peruvian Cuisine, stews, salsa and chilis.
Chipotle Morita: Chipotle Chile (Capsicum annuum) powder is made from grinding whole Chipotles, seeds and pod both. This Chipotle Powder is 100 pure to provide an authentic flavor. Chipotle Peppers are the familiar Jalapeno Chile, first smoked, then dried. They have a deep brick reddish brown color. Use Chipotles in enchilada sauces, chili, stews, barbecue rubs, and corn bread. Their smoky quality combines well with poultry, meats and fall squash. My note: a definite hot tang on the lips and tongue. Should be excellent in chili.
Chile Mix Dark: A dark (black pepper-colored) chili seasoning mix. Not sure what's in it (besides plenty of cumin). Minimal heat. Can't wait to try it, tho. 🙂